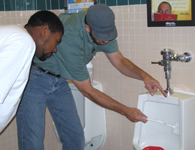 Keeping a facility clean is often a five figure proposition annually, even for smaller buildings.  Maybe you have a trustworthy "maintenance department", but remember: The EPA holds all the cards, and you may pay for mistakes you didn't even know you were making! You may need a Janitorial / Maintenance Consultant for your building.
That water leak in your roof may have left something dangerous and costly in your wall - mold and mildew. Your employees begin to get sick. The term litigation comes up and you are facing a huge dollar suit.
As a Building Cleaning Consultant, we can make sure there are no trip wires in your building waiting to cause you money damages.
Ever wondered whether the chemical company you are using is really "green"?
Is that expensive special-order chemical really the most effective cleaning product to do the job?
Want to find out if it would cut costs to go "in-house"?
How many people does it really take to make your company shine - inexpensively, efficiently and without damaging fixtures, flooring, and wall finishes?
You may be used to the idea of going to a consulting company.  Now you are thinking about using a cleaning / janitorial consultant service. Yet there is no cleaning consulting firm with 35 years cleaning and maintenance experience.  There is no cleaning consultant with IICRC master ratings in every form of cleaning and maintenance, with one exception: Maintenance Cooperative!
We can review your janitorial bids and chemical usage to cut your costs dramatically.
We can provide training to your building maintenance personnel to make procedures better and more efficient.
We can catch problem areas to make your building safer, and keep you out of court!
We offer cleaning / janitorial consulting services for the following:
Office / Professional
Retail / Commercial
Education / Schools
Healthcare / Medical / Hospital
Theatre / Entertainment
Government
Industrial / Manufacturing
Food Service / Restaurants