Maintenance Cooperative has been cleaning movie theatres 365 days a year for over 32 years! From the small independent cinema to the large movie theatre chain with 20+ auditoriums, we understand the needs our customers.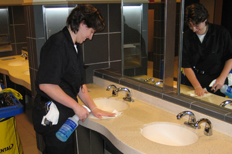 Every night we have crews removing candy, gum, butter, nacho cheese and syrup from auditorium floors and seat fabric in cities throughout the Southeast, Midwest and Eastern seaboard.
Our nightly theater cleaning routine includes but is not limited to:
Restroom cleaning, restocking and disinfecting
Trash can maintenance, collection and removal
Sweeping and mopping auditorium floors
Vacuuming lobby carpet
Window washing
Detail cleaning such as nightly gum removal from all carpet and seat fabric.
At Maintenance Cooperative, we understand the concerns of our customers and we work diligently to provide quality cleaning and maintenance services for your company while maintaining the security of your theater.