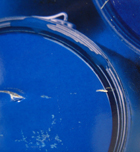 Maintenance Cooperative has skilled painters on staff;  We are ready to tackle your painting needs. We have completed complete auditorium remodels with painted walls, ceilings and floors. We have painted auditorium floors and gotten years of service with little or no chipping.
Painting requires proper preparation; We thoroughly steam clean all paint contact areas.  We use an approved grade of epoxy paint, and we finish our paint job with a clear sealer to protect the epoxy while it cures (usually 60 days). When the sealer wears off the paint is pristine and ready for years of good wear.

Since we have been maintaining theatres for over thirty years, we are experienced with products offered by theatre suppliers and we have implemented solutions that directly address the particular problems associated with the needs of a 365 day per year operation.

Whether you need one wall painted or all of your auditoriums, we have the skills and experience to handle your job.  We have never missed a promised deadline!