Our janitorial workers are reliable, hard-working and quality focused. They are well-trained professional cleaners, normally local to the theater they service. We provide the assurance to our customers that we do not hire any undocumented alien workers. This means that:
No one is being exploited
You'll work with someone who is fluent in English
Every person who walks into a customers premises has been e-verified and cleared by ICE (Homeland Security).
We love our staff.  They are part of our family business. They are great because of who we hire and how we check on them to ensure that they stay that way. 
We guarantee our customers and our personnel that 80% or more of our gross receipts go in the pocket of the person who actually does the job. This compares with the industry average of 40 to 50%.  We have found that treating our staff better results in higher quality work.  If quality is purchased at a price, then we are on the right track!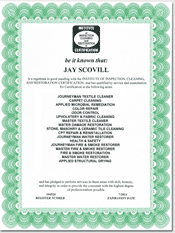 Our President, Jay Scovill, Is a IICRC rated Triple Master in:
Cleaning, Restoration and Maintenance of all types of Textiles (Carpet, Seat fabric, VCT)
Cleaning, Restoration and Maintenance of Ceramic Tile, Stone Tile and Grouting
Water Damage and Restoration
Smoke Damage and Restoration
Additionally, staff that are required to do specialty cleaning (IE carpet cleaning, upholstery cleaning, floor care, water damage) are IICRC Certified Technicians in that particular cleaning skill.